Our Firm
Acender Consultants is a firm with vast experience in delivering professional advisory services.

Our Firm
We are leaders in advisory services for consolidated and growing companies. Our professional efforts are aimed at assisting managers and entrepreneurs in handling and controlling their businesses.
Our Firm not only relies on the quality and efficiency of our professionals but also on the trust placed by our clients and by the business community. We offer comprehensive solutions to make businesses easier and successful.
"Our clients' Trajectory, their Satisfaction and the Trust they have placed upon us are our main assets"
Acender Consultants was founded in 1992 and since the beginning has been committed to deliver services of excellence with a comprehensive and proactive approach.
Acender has a group of first-level professionals who are able to deliver services in: Corporate Governance, Technology Intelligence, Corporate Finance, Outsourcing, Audit, Tax, Business Processes, Social-Entrepreneurial Responsibility and Risk Compliance, Due Diligence and Sustainability, Business Consulting, Small and Medium-size Companies, Innovation and Entrepreneurship, Management of Sensitive operations and Personal Services, along our country.

Our values
Trust, Commitment, Innovation, Team Work.
Our mission:
"Deliver high value-added and high-quality professional services to our clients with the purpose of meeting their expectations and creating long-term relationships."
Our vision:
"Be recognized as leaders in consulting and advisory services for growing and medium size companies, adding value to their businesses and generating long term relationships."
It is gratifying to have our clients' trust. OUR CLIENTS have found an adequate and efficient alternative for their needs.
In the search for adding value to their businesses, Acender Consultants offers its clients customized services, expertise in our market, fast response capacity, permanent evolution and updating.
At Acender Consultants every project is led by a skilled professional who is in charge of the strategic managing but also incorporates the most suitable professionals for each case. This approach guarantees the quality and profitability of Acender Consultants services. Its challenge is to become a trustworthy partner for its clients.

Team

Ricardo Corral
Founder and leading partner,
Acender Consultants.
Ricardo Corral is an Auditor with a master's degree in business administration (MBA) from Pontificia Universidad Católica de Chile. Along his 30-years career, he has been engaged in consulting services for numerous companies of the mining, financial, manufacturing, forestry, commercial, retail and services sectors. He was senior partner at Moore Stephens and BDO in Chile. He has also participated in Due Diligence, mergers, acquisitions and restructuring processes of economic groups as well as corporate governance consulting for different industrial sectors.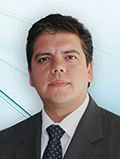 Cristián Garrido
Technology Consulting Lead Partner,
Acender Consultants.
Auditor and Public Accountant, Universidad de Santiago, Bachelor degree in Accounting and Audit, Universidad de Santiago and IFRS Diploma, Universidad del Desarrollo. Cristián has more than 15 years experience in management information systems, Human Resources, operational processes, technology and risk management. He is a specialist in coordinating and managing consulting projects in large scale systems, under complex technological environments, in different industries for local and international Companies. Previously, he worked at Banco Osorno, Pricewaterhouse Coopers and was Acting Partner at KPMG – Chile, Management Consulting Department.

José Taba
Risk Consulting Lead Partner,
Acender Consultants.
Accountant, Auditor and Engineer in Management Information and Control, Universidad de Chile, IFRS Diploma, Universidad del Desarrollo. José has more than 15 years experience planning, conducting and executing risk assessment of business processes and information technology. He has participated in audits and consulting engagements, carrying out risk assessment technology projects and business processes, IT strategy, system selection, assessment of impacts on system products IFRS convergence processes. Previously, he worked at Ernst & Young, Telefónica del Sur and was Director in charge of Information Risk Management at KPMG Chile.

Teamhips and Memberships
Our Firm is both a member and partner to several well known organizations and Chambers of Commerce.